Maison Dominique Laurent, Gilly les Citeaux
---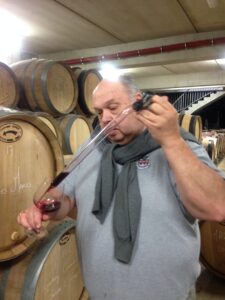 The first time we came across Dominique Laurent was at the end of the 1990's, when we often visited and bought wines in the Rhone Valley. In 1996 Dominique Laurent and Michel Tardieux had established themselfes as one of the best négociant companies in the Rhone Valley, based on the principles already outlined in Bourgogne in 1988 by Laurent: long term relationships with the best growers of old vines in the best parcels in le vignoble de la Vallée du Rhône. Add to this, minimal intervention resulting in accurate translation of terroir and vintage. Laurent and Tardieux ended their partnership in 2008, when the Tardieux family took over full ownership.
In Burgundy, Dominique Laurent continued his ambitious research on techniques used in the last century to tailor methods suiting each combination of vintage and vineyard. In Guide des Vins 2018, Maison Dominique Laurent received five out of five stars by Bettane & Desseauve ("Cinq étoiles signalent les producteurs exceptionnels, ceux qui représentent le sommet absolu de la qualité en France et dans le monde").
"Dominique Laurent a inauguré il y a plus de 25 ans le concept de négoce haute couture, qu'on peut définir ansi: choix trés exigeant de vins issus de vieilles vignes de pinot noir et de chardonnay fins, et élevage méticuleux dans des fûts, qu'il produit dans sa tonellerie, adaptés à chaque cuvée, avec une utilation minimale du SO2, et mise en bouteille la plus douce et la moins traumatisante possible".
Le rapport qualité – prix du début de gamme et en particulier des villages est sans rival.
10-30 % de PC leur sont systématiquement incorporés pour les transformer en villages de référence, selon une ancienne tradition bourguignonne, qui s'est beaucoup perdue! L'ensemble de la gamme des vines de Dominique Laurent a pour dénominateur commun une grande pureté, beaucoup de finesse et d'élégance.
In 2006 he and his son, Jean, established Domaine Dominique Laurent in Flagey-Échézéaux. The domaine, presently including some nine ha, received its fourth star by Bettane & Desseauve in their Gide des Vins 2019. Seventeen different reds and four whites are offered for sale from their domaine, including both GC, PC, village and regional wines from Côte de Nuits and Côte de Beaune.
Visitors are not received here. We were kindly referred to local wine shops. However, Sylvie Esmonin paved the way for our first rendez-vous. We were cordially welcomed by Dominique Laurent, an intelligent, open minded and straight forward person with a lot of passion, humor and contagious enthusiasm. We tasted selected examples of his regional, village, PC and GC from casks and must admit, as opponents of using too much oak, that his concept left us with wines boisé trés raffiné, dominated by finesse and elegance. Not only his casks are magic, so is his skills. Respect. Have been costumers since our first visit.