Domaine Clos du Mont Olivet, Chateuneuf-du-Pape
---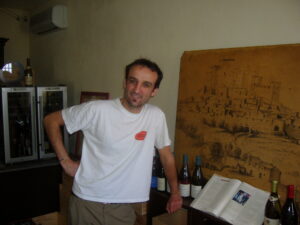 The founder of what became CMO was Romain Jausset, the father-in-law of Seraphin Sabon, who inherited the parcels Jausset had bought. The next generation was Joseph Sabon, who introduced us to Chateauneuf-du-Pape. In the early 90ies he was one of the "papets" – the older generation – sitting on a bench at the fountain together with other papets, sharing memories while watching the visitors and the constant traffic blockage. We had traced the address of the domaine, but could not find it. He kindly took us to the tasting room, which at that time was Les Reflets, an association of growers to bottle, condition and store the wine of each grower under the same roof. However, before going there, we had to walk back to his wife to announce that lunch migh be delayed. We had a splended tasting and an excellent introduction to Chateauneuf-du-Pape.
Joseph Sabon had three sons: Jean-Claude (senior), Pierre and Bernard, responsible for the vines at Bolléne. The next generation have now taken over. Thierry Sabon, son of Jan-Claude, is responsible for the winemaking, while David, Celine and Mylene, children of the other brothers, have other roles.
The domaine has 28 ha of Chateauneuf-du-Pape, two of which are for white wine. They have parcels in the lieu-dits Le Pied de Baud (nord-) and Montolivet (eastrn sector) in which they own some 9 ha more than 80 years old Grenache vines, the backbone of La Cuvée du Papet. The name of the domaine has also been derived from this lieudit. To the south, they have parcels in Les Gallimardes. South of Bolléne they own 17 ha of Côtes du Rhône. This is a great domaine owned by gentle, down to earth people, who remain fiersly devoted to Grenache and use traditional methods taught to them by their fathers and grandfathers. Methods include a late harvest, low yields (30 hl/ha in average), partiel destemming, gentle crushing, and 2-3 weeks cuvaison with press wine added back. Time of lélevage in quite old barrels or foudres depends on the vintage.
The aim for the reds of this domaine is vins de garde. The superier cuvée, Chateauneuf-du-Pape La Cuvée du Papet is only made in grands millésimes based upon a selection of Grenache more than 80 years old from parcels at Montolivet. Ageing in beton tank and subsequently in foudres. The standard Chateauneuf-du-Pape is made from 80% Grenache, 10% Syrah, 6% Mouvédre and 4% Cinsault, Counoise, Vaccarese, Muscardin, Terret Noir and Picpoul Noir. These wines are not ment for early drinking. They need some 5-6 years to soften the tannins and integrate fruit, alcohol and richness. The old wines add further concentration and complexity. These wines are ideally drunk between 6 and 20 years. The white Chateauneuf-du-Pape is made from 30% Clairette, 30% Bourboulence, 25% Rousanne, 14% Pipcoul Blanc, and 1% Picardin. The Rousanne is fermented and aged in one year old barriques, the rest in steel tank. In addition, the domaine makes four red and one white Côtes du Rhône. Over the years, our pick from this domaine has included the standard and white Chateauneuf-du-Pape.